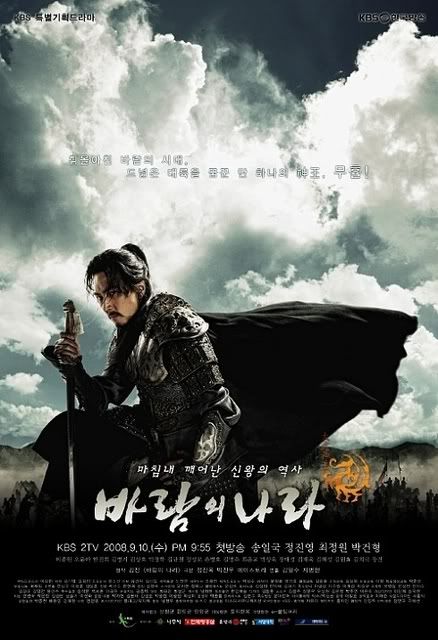 Title: 바람의 나라 / The Kingdom of the Winds
Also known as: Country of Wind / The Land of Wind
Genre: Period Drama, Fantasy
Episodes: 36
Broadcast Network: KBS2
OK I've been really hooked on this drama for the last two weeks.  I don't know but I really like historical dramas for some reason.  Anyways, I must say that before you watch this drama you MUST watch the drama Jumong to get an understanding of what happen before this.  That will take some time…since Jumong is like 86 episodes.  But it is worth it.  So basically Kingdom of the Winds is about King Jumong's son and grandson.  And we even get to see King Daeso…I really hate that guy and really wish King Jumong got a chance to kill that King even if he is his half brother.  But the story of Kingdom of the Winds is about Jumong's son named King Yuri and how the sorceress told King Yuri that his 3rd son would kill his mother, his father, his brothers and would eventually kill his own son and to top it off bring the collapse of the kingdom.  WOW…so what will King Yuri do?  Well watch the movie!
Watch the trailer:
Here is the OST.
The Kingdom of the Winds (바람의 나라)

,